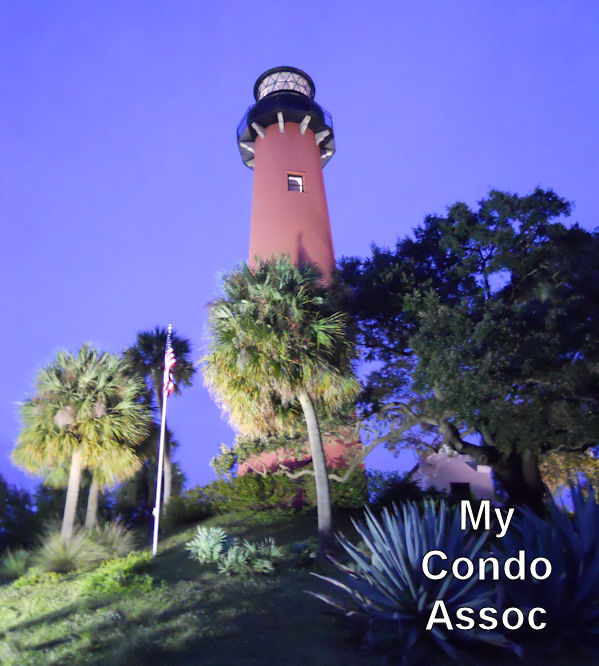 Welcome to My Condo Association
We would like to welcome you to My Condominium Association, a fictitious association set up to illustrate the opportunities and benefits of a full-featured association website. This non-existent association is located in prestigious Northern Palm Beach County, surrounded by restaurants, entertainment, shopping, and a short walk to Carlin Park Beach. Our grounds are well-maintained with attractive landscaping/lighting, a lake surrounded by a walking path, two swimming pools, tennis courts, bocce ball court, and an on-site restaurant. Our community is designed to provide you with ease and convenience in your daily lifestyle.
My Condo Association is managed by My Property Management Company under the direction of the Board of Directors. Our Property Manager and staff of experienced maintenance and office personnel are here to serve you. If you are interested in volunteering to assist in community activities, there are opportunities for owner participation within the various committees – social, rules, financial, house, etc.
The Association's website, OneMoreViewpoint.com, which you are currently viewing, has both general (public) information pages as well as a login for unit owner access to additional information. The public section provides general information on our community. The owner's section provides community newsletters, notices/bulletins, forms, financial information, an events calendar, and Florida statute required documents. User ID's and passwords for owner access can be arranged through the Association office.
New owners should have received a copy of the Association's governing documents from the previous owner at the time of purchase including: Declaration of Condominium, Articles of Incorporation, Bylaws, and Rules & Regulations. You are encouraged to review these documents carefully for a better understanding of your rights and responsibilities as a My Condo Association owner. If you are renting a unit at the Association, you have many of the same privileges as owners and are required to adhere to the same rules and regulations.
A summary of our Rules & Regulations is posted on this public section of the Association's website as is a list of Florida statute required Frequently Asked Questions and Answers (FAQs). These will be helpful in acquainting you with important aspects of condominium living at My Condo Association. Complete versions of our governing documents and other important documents and information are contained within the owner's section of this website. (Also included in the owner's section is information on the various ways of paying your quarterly maintenance assessment.)
Please call (561) 111-2222 or visit the Association Office located at 444 Avenue South, Unit E-111 if you have any questions. The Office is open weekdays from 8:00 AM to 12:00 PM and 1:00 PM to 4:00 PM.
We are pleased that you have chosen My Condo Association as your new home and/or vacation community.
Welcome!